Home /
Zombie Tsunami
4.5.2
Attack the city with zombies! Form the biggest horde by making people zombies.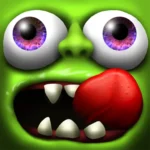 Download APK
Description
The zombies are revolting ! Attack the city with a horde of zombies, change pedestrians into zombies and create the largest horde.
Eat your friends, and challenge them to a crazy race by destroying everything in your path.
Zombie Tsunami has proudly exceeded 200 million players around the world.
"Zombie Tsunami is a game you really need to own" (TouchArcade)
FEATURES
– "One touch" gameplay to control the entire hord
– 10 delirious bonuses, ninjas, dragons, UFOs, and many more
– Many upgrades to unlock
– Raise zombie birds and use their powers
– More than 300 missions to devour
– 11 sets to travel in
– Optimized for all Android models
Why not try our other games: EDGE, Cross Fingers, Perfect Cell, Truckers Delight.
Follow us on twitter.com/Mobigame
Visit us at http://www.mobigame.net
Related apps