Home /
Word Search Puzzle Game For Kids & Adults
2.4.13
Word search puzzle adults and kids - Word finder - Word games 🔤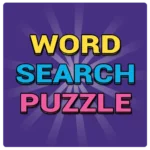 Download APK
Description
Word search puzzle is word finder game that consists of discovering a determined quantity of words combining letters vertically, horizontally, diagonally and in any direction, from right to left and vice versa.
If you want to exercise your brain, use this word puzzle, this is one of the good ways to keep it in shape.
"If you use more the brain less it wears out"
This consists of different levels of difficulty, from the easiest level for your mind to go into shape, up to the level Extremely difficult for bright, bold and fast minds.
This is not just a game for kids, but for all ages. From the youngest to the most adult
★★★★★ Word search puzzle free with levels ★★★★★
Levels of word search for kids & word search puzzle for adults are:

* Extremely Easy Level 5X5 😊
* Very Easy Level 6X6 😀
* Easy 8X8 😁
* Medium 10×10 😄
* Difficult 12×12 😅
* Very Difficult 14×14 😏
* Excessively difficult 16×16 🤔
* Extremely difficult 18×18 😣
* Extremely difficult 20×20 🤪 😭

This is one of the best word puzzles games free ideal for those days when you are in a waiting room, on the bus, the subway or any other place.
This puzzle games consists of two types
* Limited Time ⏲️
* No Time Limit
As you are playing you will unlock achievements according to the difficulty you choose so you can gain a position in the leaderboard. 🏅
word search puzzle 2020 is also available in 21 languages, so you can learn some words according to the language you are studying. Some of the languages ​​are 🇺🇸 English, 🇫🇷 French, 🇨🇳 Chinese, 🇷🇺 Russian, 🇮🇹 Italian, 🇵🇹 Portuguese, etcetera.
Enjoy this wonderful word search puzzle game 🔤 and be the first on the scoreboard! 🏆
The best free word search games to play-
Related apps