Home /
WORD FIRE: FREE WORD GAMES WITHOUT WIFI!
1.115
Get Word Fire: Free Word Games! Play this HOT Word Game NOW for word games free!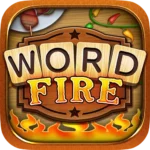 Download APK
Description
DOWNLOAD the HOTTEST and best word games FREE!
Word Fire has incredible word games Free! Word Fire is an easy word game that gets harder as you progress through 2000+ levels!
WORD FIRE HAS:
* Daily bonus coins!
* Daily challenges!
* Over 2000+ Levels!
* Play Offline!
* Get word games free single player mode or versus your friends!
* Use hints if the level gets too hard!
Play Word Fire for the best word games free for word game fans, word search lovers, and practice your English!
Having an issue with these word games free for adults? For immediate support, contact us at [email protected]
Thanks!
Related apps