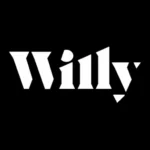 Download APK
Description
Als je een échte Willy bent, dan zet je de Willy-app uiteraard meteen op het eerste scherm van je telefoon zonder dat we hier een wervend tekstje neer moeten zetten. Dat scheelt ook weer dat we hiervoor geen overbetaald reclamebureau moeten inschakelen, dat achter onze rug alsnog het klusje aan de stagiair geeft.
Als je Willy nog niet kent, dan is het geen dag te vroeg om je leven te verrijken met al die fantastische alternatieve hits, vergeten parels en verse talenten die Willy 24/7 op je los laat. Netjes aan elkaar gepraat door dj's die weten wat de cupmaat van Courtney Love is, wie er naast Tom Barman tegenwoordig eigenlijk nog in dEUS speelt en die op Twitter geblokkeerd zijn door Regi omdat ze altijd maar met één bepaalde vinger terug zwaaiden als antwoord op de vraag: 'Waar zijn die handjes?'.
We gaan er maar vanuit dat een échte Willy slim genoeg is om uit te vogelen hoe een app werkt, dus laten we afsluiten met de wijze woorden van The Ramones: 'Hey, ho, let's go!'
Oh ja, van onze Chief Executive Officer Marketing And Other Online Nonsense moesten we nog vermelden dat Willy uiteraard ook te beluisteren is op DAB+ en op onze site http://willy.radio, voor het geval de batterij van je telefoon leeg is.
Related apps