Home /
Games /
Where's Balldo?
1.2
Help Balldo find his way home in this baller hidden object game.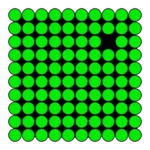 Download APK
Description
Balldo has gone missing – frozen in fear in and feeling out of place.
Test your attention to detail skills and search for Balldo before the timer runs out.
Where's Balldo is a hidden object game that's fun to play alone or with friends. The goal of the game is to find the only stationary ball.
– Endless gameplay
– Four phases
– Increasingly harder
Where's Balldo is a hybrid app, developed with web languages, such as HTML, CSS, and JavaScript.
Related apps