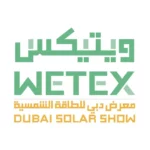 Download APK
Description
This multi-lingual universal application for visitors and exhibitors, Following are the main features of the Smart App:
* Bilingual (Arabic & English)
* Online Visitor Registration
* Online Exhibitor List/Floor plan
* Navigation to Exhibition hall
* Seminar
* Sponsors
* Photos & Videos
* Quiz
* Social Network
WETEX is organized by Dubai Electricity and Water Authority as a member of the Dubai Supreme Council of Energy, in line with Dubai's vision to build a sustainable future for the Emirate.
Visitors to WETEX represent the highest ranks of the public and private sectors who focus on water, energy and the environment. Senior government officials from across the Middle East and around the world attend this event, including ministers, heads of governmental institutions and international diplomatic delegations.
Captains of industry; CEOs, managing directors, general managers, and other executives who are responsible for the purchasing and strategy for their organizations rank among WETEX's visitors as well.
Other visitors include investors, industry experts and researchers, regional and local media as well as undergraduate and postgraduate students from educational institutions in the UAE.
Related apps