Home /
Video Downloader for Facebook – HD Video Saver
1.3.1
Use FB Download App & HD Video Saver to download video facebook! Easy and fast!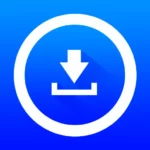 Download APK
Description
HD Video Saver for facebook, a fast and secure fb video downloader 2021 app, supports downloading high-quality videos from Facebook and Facebook story. It is a facebook video downloader that saves fb video to gallery and allows play hd videos offline.
With this HD video saver from fb & fb-video-downloader you can download videos and pictures from Facebook news feed, pages, groups, friends and families, etc. 100% fast speed! Use this Facebook Video Downloader HD to download and save all formats of fd video, including HD video, SD video and audio.
How to download video from FB:
Method 1: no need to login
1. Share the video from the Facebook app;
2. Choose to share to "Facebook – Video Downloader"
Method 2: via built-in browser
1. Log in to the official FB website in facebook downloader app;
2. Browse your fb video and photos with built-in browser;
3. Click the video you want to download.
(Downloaded video will be saved to your gallery automatically)
Fast facebook video downloader 2021 allows to download video HD from fb by copying/sharing video link/URL to fb video downloader app without login. You can also download video from Facebook by browsing your FB account through the safe built-in browser. Both methods are easy and fast, at the same time to protect your privacy!
Top feature:
🌟Simple interface and easy-to-use
🌟Multitask download video in the background
🌟Alternative downloading format(HD, SD, Audio)
🌟Various secure method to download video
🌟Built-in video player in fb video saver app
Note:
❗ Private video post can only be accessed by followers, or the Facebook website restricts downloading by address, so you need to method 3 to download the video from Facebook.
Disclaimer:
❗ Video Downloader for Facebook – facebook story saver is not affiliated with any 3rd Party including Facebook Inc.
❗ Video Downloader for Facebook – fb downloader didn't use to clone or hack anything, it just displays downloaded video and images.
Related apps