Home /
Apps /
Us Robot Fighting 2020 : Ring Wrestling Games
1.0.5
Cause ragdoll effects over your challenger robot to win US robot fighting 2019.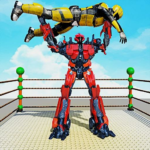 Download APK
Description
New wrestling robots 2019 is in its peak position and there is just wait of legend player like you who can give real commands to robot wrestler to beat all contesters of robot wrestling championship 2019 in believable manner. This newly constructed wrestling ring of robots battle games 2019 has almost all modern wrestling features in it which players are always in search of. Enter into new robots battle simulator and start your first match by initiating 3D robots battle ground fighting to give real challenging situation to all other rival robots of modern robots fighting games.
Bring real threat in all wrestling circles of rings wrestling championship games by knocking down your opponent player in no time and provide alarming threats to all other revolution wrestling robots 2019. Fight with all robot wrestlers of this robots wrestling club 2019 and tell them that nobody can meet your powers and techniques in present 3D robots wrestling club simulator 2019. Keep yourself active and agile as your contender robots of super wrestling games 2019 possess matchless powers and they are also second to none in wrestling world of ultimate robots fighting games 2019.
Provide evidence of your physical and mental strictness by proving your abilities with all stakeholders of real wrestling club 2019. This new wrestling expertise leads you toward upcoming wrestling tournaments of multi robots wrestling championship games in convincing and commanding of world wrestling games 2019. Fear not to give challenge to anyone in this new wrestling robots club 2019 as you have real luxury to utilize powers and knacks of wrestling robots 3D simulator games with profound easiness and decent comfort of us ring wrestling games.
Us Robot Fighting 2019 Ring Wrestling Games features:
New wrestling club.
Real robot wrestling.
Modern robot fighting.
Grand robotic battle.
Easy game controls.
Smooth game play.
Perfect wrestling ring.
Background commentary.
Visit Google play store to download this latest and grand robot fighting game to feel live and natural atmosphere of real robots battle 3D 2019. Get detailed experience of futuristic fighting club 2019 to make yourself ready for post modern and future 3D robots wrestling fighting 2019.
Related apps