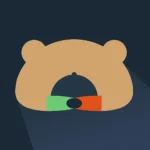 Download APK
Description
Hungry? Confused about what to eat?
Want to get a reliable recommendation in the culinary area?
We are Ultimeal, your trusted partner in food and beverage adventure. Feel always satisfied when choosing the menu by using Ultimeal review.
You can also find all the local cuisines nearby only in one application. Order the meals you want from the eatery you love, and let us deliver them safely for you. When you're ready to order, you'll see your delivery destination, estimated delivery time, and the total price and delivery fee. Track your orders in real-time while they're being delivered to you.
Features:
– Food Directory: Get to know about restaurants and deals around you. Never feel doubtful about what you want to eat.
– Rating and Review: Knowing the best food and beverages menu from rating and review. Distinguish the most delightful cuisine in any restaurant.
– Recommendation Menu: Find out a whole lot of options to choose from you have never seen before.
– Interesting Events and Promotions: Many interesting events and promotions that you will never find anywhere unless in our application. Use our special voucher to get a limited promotion only for Ultimeal users.
– Easy and Intuitive Experience at Your Fingertips: With a comprehensive design and user-friendly interface, you will find yourself enjoying a new and liberating experience in our application.
– Food Delivery Service that Makes You Satisfied: Order a variety of food choices from local restaurants, cafes, and comfort food. Our food ordering application and delivery partners will work together to keep your food clean and safe.
If you have a business and want to acquire more customers through our mobile application, please let us know at ​[email protected]​ today.
So what are you waiting for? Download and use the Ultimeal app for FREE!!
Related apps