Home /
Apps /
Ultimate Real Rebot Fight – Robot fighting Game
1.0
Join Robot World Fight Club & Become a Champion of Robot Ring Wrestling Game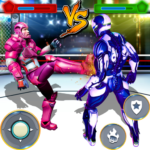 Download APK
Description
Do you love *** Best Robot Fighting Game on Mobile & Tabs?Any Type of Robot, Robot Fighting Games ? Robot Fighting Games for Real Transform Ring Fighting 3d for every age community.
Join the best iron mech commander fighting for survival inthe royal robot arena. Ultimate robot Fighting is a free action Fighting game for RPG game. Dynamic Robot Combat game have 10 player of ring Fighting. Well If you like to real transform fight game then ultimate super ironic real-world ring sim robot fighting 2019 is perfectly designed for you, where you will fight as a hero with your favorite opponent wrestlers for the specific custom championship belts. Play the most action full and real robat game steel fighting.
Are you ready for playing fight in heros as moster players. Welcom to our moderm real robat fight club to stay away from flurstration in our Best Battle Survival Game. Save your hero robots to maintian their dignity. Now its a time to show your amazing Robot Boxing , Firing and attacking skills by transforming your robot monster.
You are like the action hero who's aim is to become the champion of this ring battle and to win the super real robots ultra infinite 3d steel rage ring boxing and wrestling championship title and to become a real robot fighter and in this Ultimate Ring Wrestling Champion Robot Boxing game.
In this, you will have to fight with robots in a ring. At the start of the game, you will have to select your robot and after that, the training stage will continue in which you will have to teach your robots different fighting skills. After training, you will have to fight with your opponent robots. Each match will consist of three round in which the one who wins the 2 round will be declared a winner. You need to be very careful while fighting in the ring because world famous robots are participating in this wrestling championship and they are ready to take down everyone who tries to stand in their way. So fight with your full strength and try to win this championship belt to show the world that you are the best.
In this game, you will not only fight one on one match but you will also have to fight in a team up the match. In team up match, every team will consist of 3 robots and all of three will fight with their opponent at the same time. To win the team up a match you and your team will have to throw the opponents from the ring. After you win your first team up a match you will have to fight another match you will have to win 4 team matches so that you can be declared a winner.
So Are you ready to knockout your opponent in the ring wrestling super ironic kickboxing championship? Build and train your fantastic super warriors and a powerful mechanical robot for the extreme battle in the ring. so what are you waiting for? Download this game now and start playing in the ring.
Features…..
• Amazing Gra[hics and Stunning Animations
• Awesome Game-Play
• Easy On-Screen controls
• Punch, kicks, jump, block, different combos, and special moves.
• Realistic AI fighting enemies.
• Beat all the tag teams' robot wrestlers.
• Choose the character robot of your own choice.
• Stunning action and fight in the game.
• Realistic sound effects.
• Real 3D Graphics.
• Crowd Cheers and appreciation.
• Combo Attacks and special moves.
• Exciting Story mode gameplay.
• Action packed and thrilling fighting arenas.
Related apps