Home /
Ugawatch – Translated Movies & Series
3.45
Watch Luganda Translated Movies by VJ Junior, VJ Jingo, Ice P, VJ Emmy...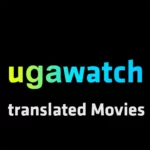 Download APK
Description
Ugawatch allows you to watch Luganda translated movies by VJs such as VJ Junior, VJ Jingo, Ice P, VJ Mark, VJ Emmy and more.
Now you can watch movies your way with the motherland spirit! If you enjoy watching film enjogerere with that spiced up Luganda, this is the App for you. We will watch movies Anytime, Anywhere and wherever you are! With the Ugawatch app you have a full library in your pocket for you to enjoy Luganda Translated movies at your convenience.
Features:
* Watch anytime Anywhere
* No Ads
* All VJs in Uganda like VJ Junior, VJ Jingo, VJ Emmy, etc
Disclaimer:
Content in this app has the copyright of their respective owner's. If you have any copyright issues please send us an email at: [email protected] and we shall take down content within 24 hours. https://ugawatch.com/res/doc/dmca.pdf
Privacy Policy: https://ugawatch.com/res/doc/privacy-policy.pdf
For Terms please visit: https://ugawatch.com/res/doc/terms.pdf
Related apps