Home /
Tube MP3 Music Downloader
1.1.7
Multiple sound quality, smooth, standard, high sound quality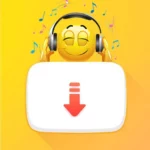 Download APK
Description
Vtube HD video downloader Snaptubé free app to download your favorite videos from the Internet at lightning speed with integrated nearly all format video player both in one app. You can fast download all videos to enjoy them offline with a simple click. This smart video downloader allows you to download several files at the same time and download them in the background.
How to use this HD video downloader
* Freely browse social networks and video sites with the built-in browser
* Play the video you want to download
* Click the download button
* Done!
Features:
* Fast download speed
* Auto-detect videos and fast download with one click
* Download videos and social media clips in HD quality from all social webs
* Play videos offline with the built-in player
* Play, delete, and share your downloads
* Download videos with no limitation
* Check progress in your phone bar
* Large file download supported
* Protect downloaded videos with password
Music downloader – Music player, Mp3 downloader – the latest version allow users to download music with the highest speed popular rankings music such as US – UK, Kpop, Jpop, Vpop, House Music … and they are regularly and continuously updated.
🎧 Features 🎧
♪ Multiple engine to find you music easily
♪ Great data set, more than a million high quality mp3 tracks. One of the biggest free mp3 music storage.
♪ Very fast and robust multithreaded mp3 download engine.
♪ Flexible search possibilities (search by tracks, artists, albums, genres, instruments, moods, popularity and more)
♪ Multiple sound quality, smooth, standard, high sound quality
♪ Download & listen music Offline
♪ Share downloaded mp3 to friends
DISCLAIMER
All music available is under CC license, All tracks are verified, and available for personal usage (not for commercial purposes).
Note:
1. MP3 music download do not store source files data from Internet sites
2. Online best music
Author and license links are available for each song
3. MP3 Music Downloader & Free Mp3
is provided by mp3 All songs available through this application are intended only for your personal non-commercial use.You can visit Jamendo privacy policy https://api.jamendo.com/ App authorized to use Jamendo API. All tracks available is under CC license(author and license link properly mentioned for each song). You can find and contact authors on
Related apps