Home /
Touch Racer (remote racing wheel)
5.3
Turn your android device into a Racing Wheel for any windows game.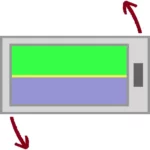 Download APK
Description
"Touch Racer" is software that turns any Android device into a racing wheel controller.
It lets you use your smartphone or tablet for steering a car when playing any Windows computer game. The phone and the computer connects each other automatically via Wi-Fi.
It supports any Windows game, which you can play with an ordinary racing wheel, because it completely emulates a real joystick.
To make it work you should also install computer software "Touch Racer" on your Windows (it's available on the website: www.touchracer.com).
*How to steer with a phone*
Your smartphone becomes a steering wheel, for turning the car you just need to turn the phone.
The phone also emulates car pedals. Accelerating and breaking are performed by thumbs. You should swipe over the screen controlling a level of accelerating with a right thumb and breaking with left one. A level of accelerating or breaking is shown on the screen by a colour bar.
This way you can easily choose any level of accelerating and breaking you want from 0% to 100%.
*Requirements for a computer*
Your computer must be on Windows and also support wi-fi or be connected to any wi-fi router by wires.
Related apps