Home /
Theme for Xiaomi Poco M3
1.0
Beautiful Theme and Wallpapers are inside this app Xiaomi Poco M3, Enjoy.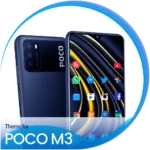 Download APK
Description
Everyone wants to have a different looks to his/her phone, that is completely personalized to his taste and liking, your friends will be amazed at the looks of your phone with this simple yet beautiful theme for Xiaomi Poco M3, this theme for Xiaomi Poco M3 come with beautiful wallpapers and custom icons. these icons are made with dedication and spent a lot of time on, all this hard work of the developers and yet this theme is for free, AMAZING.
Download it for free and get the stock wallpapers of the Xiaomi Poco M3 and custom icons. the wallpapers works with stock UI while to apply the icons you need to have a custom launcher, and this theme for Xiaomi Poco M3 support almost all the launchers available on the play store.
Some major launchers supported straight from the theme for Xiaomi Poco M3 are listed here.
ADW Launcher, ADW1 Launcher, ADW2 Launcher, ADW EX Launcher, Google now Launcher, Aviate launcher, Lucid Launcher, Line Launcher, Mini Launcher, Zero Launcher, TSF Launcher, Launcher smart, Smart pro Launcher , Solo Launcher, Next Launcher, Action Launcher, Nova Launcher, Holo Launcher, Holo HD Launcher, Go Launcher, KK Launcher, Apex Launcher
Thanks for downloading and enjoy,
Related apps