Home /
The Mother Single Parent Life
[4.25] - 17.November.2021
As working Mother simulator living Single Parent Life, be best mom simulator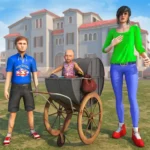 Download APK
Description
The mother single parent life Welcome to virtual single mother games, to play the role of a single mom to take care of your virtual baby in this babyish game. As single mom simulator, take care of baby and run cooking restaurant in the mother single parent life 👶. As virtual single mom, balance mother family life with work life without virtual dad. Make virtual baby happy along with restaurant cooking missions. Like food cooking games, be a good chef and take care of family. As single mom simulator 2020 it is challenge for our mommy to take care of the baby in parent games. So as virtual hotel chef, and wife simulator game, be the best single mom sim with hotel games challenges.
In this single mom simulator be perfect in family life in virtual city. As virtual mommy start driving to day care in car games with new driving missions. Also give food to pet dog and involve yourself housekeeping as best virtual mom simulator. You have different tasks to change the clothes of smelly baby & pacifier when he is crying but don't want to eat anything, be the boss and become a good homemaker being as a good housewife in the mommy games 3d. In single mother simulator games complete all the challenges to experience the life of a virtual mommy as a single parent in the mommy games.
The baby will grow up without the virtual dad in virtual single mom games. If you love the mom and dad game to experience this life of a single woman living in a tiny city town working for survival with new born baby. You are a modern family mom who takes all the challenges to make them possible being a dream mother for the baby boy in this mom and child game. Gain success in the hotel management business & become a rich young single millionaire mom to billionaire super single mother in house wife simulator games. Happy family mom story makes the dreams come true without any other person's support in her life to reach that success story in this happy mother game. As being the richest single mom every man wants to marry but the mother has other responsibilities to take care of your baby & to keep the house & baby room clean.
Mommy and baby is a fun making game where you learn how to survive being a part of a virtual family with newborn baby games. Be ready to perform different activities taking challenges of your life in the mother simulator games offline. To experience the chef life you will be working to run a restaurant to cook food for customers. Get up early in the morning, feed your baby, prepare breakfast for yourself, change clothes, give milk to your baby boy and open the restaurant to prepare the breakfast order for your online customers & visiting customers.
Go to the supermarket for grocery shopping for restaurant to deliver your services to your customers & buy baby toys to play for your child in the virtual billionaire mommy child game. To achieve the life goal you are going to become a busiest woman while working in a restaurant & working as a housewife mother at home.
Features of Single mother simulator games:
– Variety of different tasks to perform by the youngest mum.
– Run a hotel restaurant business to become a young survival mom.
– A good housewife & Baby mother's responsibility to prove a single brave mother.
Related apps