Home /
Thalapathy vijay all movie video songs
1.0
This app is dedicated to all Thalapthy Vijay Die Hard Fans All Around the world.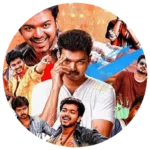 Download APK
Description
Hai friends ! Its an very simple Vijay songs Tamil app. Here You can get thalapathy vijay songs in our Tamil Language. Here let you know about how to find vijay movie list in tamil etc.
Disclaimer:
The content provided in this app is collected from public domain. We do not own any videos or not showing any modified content.
Related apps