Home /
SIS VS BRO Call R Fake video call
1
Free SIS VS BRO Fake Call Calling Video and Chat & SIS VS BRO Call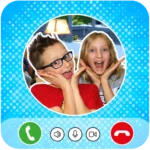 Download APK
Description
SIS VS BRO games , You can receive a fake call simulate a real voice of SIS VS BRO Videos and also simulate a real video of SIS VS BRO call, using this app to have a fun time is very good because to call you idol SIS VS BRO and have a simulation fake call with sis vs bro karina and ronald, that makes a very funny moment with your friends.
and also you have the option to receive a call and prank you friend, and that shows them that you receive calls from karina and ronald, and after that tell the that is just a joke app simulate a fake call sis vs bro call game, and advice them to install this app too because they will receive a funny call from sis vs bro game, and they will do the same thing using karina and ronald wallpaper app, and pranking their friends.
Features:
– The perfect sis vs bro
– Enjoy a sis vs bro game without peacefully
– karina and ronald Video Call & Chat Simulator Prank
– Run the application normally.
– I set the call.
– karina and ronald Sis vs Bro voices will be played when you answer the call.
– video of Sis vs Bro in her house will be played when you answer the call.
– have a texting conversation with your Hero
– Answer the fake incoming call from Sis vs Bro
You can customize call settings and choose the incoming fake caller details with a personage of your choice also like: Sis vs Bro , juliana baltar , Yolo aventuras, las ratitas, TheDonato, The LaBrant Fam and more…
Choose when characters will call on your mobile phone like after 20 Sec or 6 minutes. You will get call based on timer schedule.
Related apps