Home /
Apps /
SejutaCita – Event, Experience, Skill
1.1.9
Want to be productive and develop yourself? Install SejutaCita and find a million events.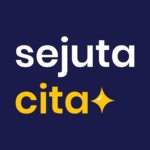 Download APK
Description
Bagusin CV!
Promosi event!
Gratis!
Raih sejuta kesempatan tingkat nasional dan internasional bersama SejutaCita. Info lomba, beasiswa, seminar, volunteering, dan masih banyak lagi. Terlengkap, terpercaya, dan terupdate setiap harinya.
⭐ EVENT ORGANIZER
A. UPLOAD EVENT
🔵 Promosi event ke 1.900.000+ mahasiswa & pelajar se-Indonesia
🔵 Terima registrasi dan pembayaran langsung, tanpa ribet
🔵 Gratis, hanya 2 klik!
B. DASHBOARD EO
🔵 Lihat pendaftar dan insight event
🔵 Kelola penjualan tiket
🔵 Ekspor data dari eo.sejutacita.id
⭐ PEJUANGCITA
A. FILTER
🔵 Berdasarkan kategori, tipe, lokasi, dll.
B. SORT
🔵 Berdasarkan tanggal acara atau deadline terdekat.
C. DIRECT SAVE
🔵 Simpan event favoritmu agar tidak terlewatkan.
D. EASY REGISTER
🔵 Langsung daftar dan bayar tiket event.
E. CALENDAR VIEW
🔵 Lihat event yang tersedia dengan fitur calender view.
F. NOTIFICATION
🔵 Dapatkan notifikasi H-1 acara agar tidak kelupaan & rekomendasi kurasi event pilihan
SejutaCita, aplikasi No. 1 untuk tingkatkan prestasi dan gapai cita-citamu.
Related apps