Home /
Games /
Robot Rivals War The Fighting Game
1.01
The Best Action Game Is Back With Robotic Action Pack, Get... Set... Fight...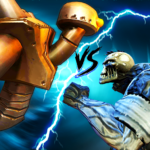 Download APK
Description
Get into the action of best real robotic fight with real zombies and skeletons. Feel like robot and step into the robotic world. Use your super powers and defend yourself with you opponents. Fight for your life. Smash out all your opponents. Will you kill or get killed? Test your Fighting skills with robot fight game. Concentrate on your moves, one wrong move will end your life.
Robot Rivals Legend: the fighting game brings you with real 3d sci-fi robotic scenarios. Feel real 3d environments and robots with dynamic fighting physics. Tap trending games brings you Robot fight free game with all free features and unlocked special powers. Feel free offline game with all latest and new features. Easy to play on your mobile devices with simple joystick controls. Robot fight contains free and real mechanic robotic characters with stunning environments and fight animations.
Feel the real robotic battle with robot fight game. Clash with your opponents to make history. Robot fight is real combat fight game with zombies, ghosts, skeletons as your opponents. Accept challenge with your opponents. Create violent rivalries between robots and zombies, ghosts and skeletons. Get multiple rounds on each state to eliminate your enemies.
TIPS:-
♦ Simple joystick controls to move your character front, back, left, right.
♦ Tap fist button to smash your opponent.
♦ Tap leg button to kick your opponent.
♦ Tap Jump button to jump and make special moves.
♦ Get special power, use it when special button power gets activated.
♦ Use special power when you find more enemies around you.
♦ Tap jump + punch or jump + kick to make special moves to kill your enemies in single move.
♦ You will find special weapons on your way, collect them to eliminate your enemies soon.
ROBOT RIVALS FEATURES:
• 15+ Levels with realistic Sci-fi pack.
• 3+ Different HD themes.
• 5+ Different Robots With Special Powers.
• Realistic smooth and simple user friendly controls.
• Free gifts inside.
• Earn free rewards by claiming 2X bonus after each level.
Download the game free Robot Rivals Legend: The Fighting Game
♦ Like Us @ https://www.facebook.com/taptrendinggames/
♦ Subscribe Us @ https://www.youtube.com/taptrendinggames
♦ Follow Us @ https://twitter.com/tappy_zone
Help us improve the game by giving you valuable feedback to us, please ★★★★★ rate us it won't take more than a minute. Thanks for your support!s
Related apps