Home /
Games /
Robot Fighting 3D : Street Fighting Kang Fu Game
1.4
Play Realistic Ring Battle, Futuristic Robot Battle & Real Robot Fighting Game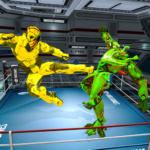 Download APK
Description
Explore the world Robots with action packed ultimate robot fighting game and get experience of real Ring Robot Fighting in wrestling. You may have experienced of multiple 3D Fighting Games but this Modern Robot Boxing Fighting Game will challenge you to fight like a real wrestler in Street Robot Fighting 3D. Super Robots Fighting in wrestling arena is offering breathtaking action packed battle among Real Robots. This Robot fighting 3D is exciting, thrilling and better than ever and built specially for android with a very low MB size means you can get into this Robot Wrestling Game while on the go. Fight like you are in real battle ground of euro robot fighting and beat your target until death in given time period. The last Survivor in this Real Robot Fighting Arena will be the champion of Best Fighting Game 2020. Go hard to beat undefeated opponents to become Legendary Fighting Hero. 3D Fighting Game designed in realistic action fight formula to entertain user with thrill the fighting Game lovers. Cheer yourself with Super Fighting Game contained with robots designed in wrestling Arena.
Robot Fighting 3D is fight and wrestling game in which you play role like a fighter. This Powerful Robot Street Fighting Game Ultimate Street Robot Fighting is full of Danger and very amusing game, you will never get bore while playing this real robot wrestling game. After playing this grand robot ring fighting level you will anxiously complete the next challenging levels. If you are lover of this street Robot fighting games then this robot crash fighting game is suit on you. Get expert to complete challenging levels of this ultimate robot ring fighting game. If you have guts to fight with other big robots then this strange robot fighting game will give you more experience in wrestling.
In this ring robot fighting game all the challenges are very difficult and interesting you have to pay full attention to successfully complete the challenge, otherwise you won't jump to next level. Each level of the ring fighting game will be unlocked by completing the previous level. In this street fighting game you can earn coins by completing the different challenges. In this ring fighting game you can buy different fighters according to the level of the game buy using coins. The graphics used in this robot ring fighting game are of the best quality and the sound used in this street fight game is very realistic.
Related apps