Home /
Apps /
Radio USA: Free FM Radio App, Music & News
1.9.46
🎵All USA Radio stations for Free, FM radio app, music & news with Radio USA!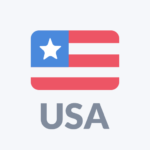 Download APK
Description
🇺🇸 Radio USA 🇺🇸
Listen to the best free American FM radio stations live with our radio app Radio USA for free!
🎵 Our free radio app allows you to listen live to all online FM radio stations and internet radios in the USA. Choose what you want to hear: news, sports, music and more!
With an easy to use, fast and modern interface, treat yourself to the best listening experience!
⭐ Features:
√ Android Auto and Chromecast compatibility
√ Alarm function to wake you up with your favorite FM radio or internet radio
√ Share a live radio with your friends via social networks, emails or sms
√ Listen to the radio while using other applications or in standby mode of your smartphone
√ Program the automatic shutdown of the application with the Timer function
√ Save your favorite radios
√ Use the magnifying glass to search for a radio
√ Receive a call while using the application
With the radio app Radio USA app now listen for free to all free American FM radio stations and online radio!
🎙️ Listen to over 1000 free American radios with Radio USA, here are a few:
Jazz24
Chicago Public Radio
K/LOVE Radio
Cat Country 98.7
Mix 103.1
Rock 92
MyTalk 107.1
Classic Hits 93.1
BBC World Service
Powerhitz / Hitz & Hip Hop Channel
CNN Radio
FOX News Radio
American Top 40 / AT40
Free Talk Live
VOA NEWS
ABC News Radio
USA Dance Radio
Love Radio USA
American Road Radio
Today's Texas Country
Easy Hits Florida
Voice of America / VOA English to Africa
80's 90's Music Fm
100hitz / Top 40 Hitz
The Eagle
The Beat
NewsTalk 99.1
Classical Public Radio
Classic Hits 107.9 WNCT
ESPN New York
97.3 WMEE
Hot 107.1
Now 97.9
Hot Country B104.7
NPR / National Public Radio
181.FM / The Beat / HipHop/R&B
Beatles Radio
Comedy 104
Solo Piano Radio
Party Radio USA and many other radios to discover!
ℹ️ Send us an email to radioslight@yahoo.fr to suggest that we add a radio that you can't find!
⚠️ Radio The Radio USA application needs a 3G, 4G or WiFi Internet connection
Related apps