Home /
Apps /
Radio United States: Free FM Radio
2.12.40
🇺🇸 Listen to +5000 American FM radio online for free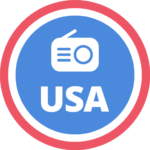 Download APK
Description
🇺🇸 🎵 The best radio app for listening to US radios!
Radio United States allows you to listen to all American radios for free.
The ergonomics of Radio USA have been studied to be the simplest and fastest radio application.
✅ Features:
– Listen to over 1000 American radios
– Search for radios
– Filter by themes
– Save your favorite radios
– Share a radio with your friends
– Receive a call during use
– Countdown function to automatically close the application
– Chromecast compatible
– Android Auto compatible
Do not wait any longer ! Listen to the radio, music and news for free with Radio USA!
Attention: The application requires an internet connection
Here are some of the radios available on Radio USA:
VOA NEWS, FOX News Radio, CNN Radio, Powerhitz / Hitz & Hip Hop Channel, NPR / National Public Radio, BBC World Service, Hot 104.5, Classic Hits 93.1, MyTalk 107.1, 105.9 KISS/FM, Kiss FM 95.9 / WKSZ, Hot 93.1, ESPN New York, Comedy 103.1, 97.5 HOT 103.9, The Beat, Power 98.3, Mix 103.1, The Eagle, Cat Country 98.7, K/LOVE Radio, Rock 108 KFMW, Chicago Public Radio, Jazz24, Hot 108 JAMZ
Related apps