Home /
Apps /
percusion cumbia
1.2.5
percussion cumbia is a real electronic drum application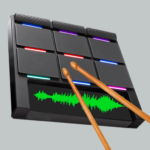 Download APK
Description
percussion cumbia is an application of virtual electronic drums that makes the creation of music your favorite entertainment.
– Contains accompaniments, loop patterns with real sounds to play live
– You can create drum rhythms in just a few clicks.
– You can play with the different sounds like a real acoustic or digital battery
– professional sound quality
– you can play in real time
– I don't need an internet connection
percussion cumbia has an easy and attractive driving interface where you can find sounds of genres such as:
– modern cumbia
– southern percussion
– cumbia villera
– tropical cumbia
– cumbia sanjuanera
– northern cumbia
– cumbia mix, etc
* The sound level is balanced as it sounds live in different real presentations.
* It is ideal for drummers, pianists, guitarists and other beginner, amateur or professional musicians who require accompaniment of a virtual percussion.
Do not miss more updates and new apps. Success!
Related apps