Home /
Paris Live – not official soccer app for PSG fans
3.2.23.2
Home of PSG fans. Live scores, transfers, news, heated discussion 24/7. Welcome!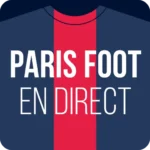 Download APK
Description
Do you feel like sharing your thoughts and emotions with fellow PSG fans? Would you like to create your own content about the club? Or simply get all the news on the go? We've got you covered.
You will get every piece of information in an instant! From the latest news, transfers, LIVE scores and match analysis to match schedule, standings, results and goal notifications – all the important features for a true Rouge et Bleu fan.
Our football app is faster than Mbappe and Messi and helps you support the team on the go.
There is so much you can do:
✔Receive match updates, live scores and results.
✔ Read through breaking news.
✔ Discuss confirmed transfers and rumors.
✔ Join the fan community. Hot disputes under every article or inside separate match chats are waiting for you.
✔ Try our blogging platform. You can create your own posts about the club and publish them inside the app. Be creative!
✔ Get match previews, lineups, goal notifications and tactical analysis.
✔ Study post-match reports, editorial columns and experts' opinions.
✔ Watch videos. Unfortunately, we can't broadcast any live games, but we deliver video highlights when we can.
✔ Receive calendar and standings for all main tournaments and leagues.
✔ Dive into detailed team and player statistics.
✔ Adjust your own push notifications for top news, kickoff, goals, yellow and red cards, results. Silent mode is available as well.
✔ Sign in using Facebook, Google or email.
✔ Share your emotions with other fans!
You can easily keep an eye on leagues and cups where Paris Saint-Germain takes part – League 1, Coupe de France de football, UEFA Champions League, International Cup and friendly pre-season matches.
More features will come with our next updates, so stay with us. Ici c'est Paris!
Our football app is created and supported by PSG fans for other PSG fans. This is not an official product and it is not in any way affiliated to the club. Stay with us as we keep developing more features for you.
We're open for cooperation. You can contact us with any questions or suggestions at [email protected]
Let's enjoy football together 🔴🔵
Related apps