Home /
NASP® Portal
1.0.32
Easy access to NASP® tournament, archer, and coach information.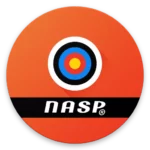 Download APK
Description
This is a preview release of the new NASP® Portal app.
Access NASP® tournament scores, rankings, and event information. Follow schools and archers to keep track of current tournaments and scores. View archer history and analytics for NASP® tournaments.
Manage and store Basic Archery Instructor (BAI) information. This app will serve as official BAI credentials for tournament registration. BAI can submit the required annual report and keep their contact information up to date.
Related apps