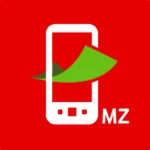 Download APK
Description
👋 Welcome to the new M-Pesa App!
M-Pesa is the largest mobile financial service in Mozambique with more than 4.2 millions of customers and we are launching now this new version of the M-Pesa App.
🤩 So… What else is new in this version?
• Faster login with the new PIN entry screen
• Improved home page with shortcuts for some main services
• Easy way to navigate through the different services
• Higher control in your payments, so you will check the details of the transaction before confirming it
• All configurations in one place such as favourite management, account settings and M-Pesa information that are now under Settings option
❤️ We keep the best
M-Pesa is a secure way to transact your money and works offline, for free! With one touch, you can access to all our services in Mozambique or abroad, 24h/7d.
💸 Access to your finances anytime, anywhere
• Send money from anywhere in the world with ease, by selecting the contact from your phone book or your favourites
• Check your balance account with a single tap
• Control your recent transactions, by viewing and downloading the mini statements
• Access the app in your preferred language, app supports English and Portuguese
📱 All your accounts in your mobile phone
Transfer money from your mobile wallet to a bank account of Standard Bank, BCI or Millennium Bim, and also from your bank account back to M-Pesa.
🛍️ Pay easily
• Make your payments to businesses and merchants in seconds
• Buy Credelec and Jackpot conveniently
• Request voucher for your POS BCI payments
• Buy Airtime and bundles seamlessly for yourself and your friends and family
🤝 Cash out from the largest network of agents
Withdraw or deposit your money from any of our agents across the country.
😎 Use it offline for free
If you are a Vodacom user and don't have access to an internet connection (Wi-fi or data), you can still transact with no extra costs. For that, when you are launching the App, you have to give SMS permissions.
☺️ Fair service with no unnecessary costs
If you want to register and open a M-Pesa account, it's totally free and you don't need to have a bank account.
There are also no fees in account maintenance and no requirement for a minimum balance in the account.
🔐 It's secure
Every time you log in, you will need to use your M-Pesa 4 digit PIN.
This is the only official and authorised App for accessing your M-Pesa account in Mozambique. Vodacom Mozambique cautions customers against downloading or attempting to use of any other App that purports to offer easy access to M-Pesa. Don't share your PIN with anyone else.
A side note
Payment reminders have been temporarily disabled in order to be enhanced. This feature will be reinstated as soon as we can.
We have noticed some of the devices restrict M-Pesa to perform well. If you are facing issues after launching the App, you also have to go to Settings, then select Privacy and Special App access to enable "Premium SMS access" to "Always allow". Keep in mind this feature is only available for Vodacom users, at least for now.
🤔 Still have questions?
For any information about My M-Pesa App, please call 84111 (for Vodacom Clients) or 85350000 (for Movitel and TMcel). We are here to help you 24h.
You can also contact us through our digital channels:
• Facebook:
https://web.facebook.com/MPesaMocambique/
• WebChat: https://www.vm.co.mz/Individual/Assistencia2/Mais/Atendimento-via-Chat2
Related apps