Home /
Mod Golem Skins MCPE 2021
1.0
Mod Golam Skins for MCPE is a FREE skin and skin pack!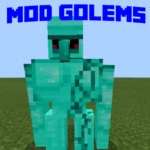 Download APK
Description
Are you looking for a cool Golem Mod for MCPE? You've come to the right place!
Welcome everyone to the app where you can easily install More Golems Add-on in your Minecraft PE or Minecraft Bedrock Edition game.
This app include automatic install system.
You just need to follow simple step to install it.
This application makes it easy for you to add map,mod,shaders or addon into MCPE games!
With addon you will get new experience in games.
This app is can only be applied with BlockLauncher application and you need install the full version of MCPE in your smartphone or tablet!
Disclaimer: This application is not approved nor affiliated with Mojang AB, its name, commercial brand and other aspects of the application are registered brands and the property of their respective owners. This app adheres to the terms set out by Mojang. All items, names, places and other aspects of the game described within this application are trademarked and owned by their respective owners. We make no claim to and do not have any rights to any of the foregoing.
Related apps