Home /
Mod Golem Models
8
New Golems to your game with this interesting mod! Download right now and play!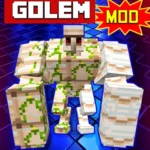 Download APK
Description
Mod Enhances Golem Models – This addon offers modified models of the Iron and Snow Golem in your world.
This Addon gives different golem behavior to work well.
Changes to the speed of the Iron Golem, it has become slower to match it animation.
In this mod, the texture and animation for the models was changed, the health was increased to 150🔥, the head turn became correct, the Snow Golem is twice as high as the Iron Golem.
They are neutral to players and attack hostile mobs.
Great graphics, cool textures, easy to download and install.
The game becomes more fun and interesting. Invite your friends and have fun!
DISCLAIMER: This is an unofficial application for Minecraft Pocket Edition.
This application is not affiliated in any way with Mojang AB. The Minecraft Name, the Minecraft Brand and the Minecraft Assets are all property of Mojang AB or their respectful owner.
All rights reserved. In accordance with
http://account.mojang.com/documents/brand_guidelines
Related apps