Home /
Memoji Apple Stickers for Android WhatsApp
2.0
3D stickers like emoji iPhone Apple Memoji for Android WhatsApp WAStickerApps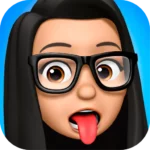 Download APK
Description
Best collection of Memoji Apple Stickers for Android WhatsApp WAStickerApps like iPhone emoji. Hundreds of new emoji iPhone stickers memoji for Android to give you the ability to express more and make communication with friends and family more fun.
We bring you amazing Memoji stickers for WhatsApp so you can choose the one you like best. What are you waiting for?
Find the Memoji stickers like Apple Memoji and customize all your conversations with the best stickers. You can send iPhone emoji stickers for Android directly to WhatsApp WAStickerApps.
Download the amazing latest collection of Memoji stickers and express yourself now! Enjoy these free WAStickerApps emoji iphone stickers memoji for android with hundreds of fun and cute stickers!
Key feature
– Hundreds of HD Resolution Memoji like iPhone Apple.
– Very easy to use, one touch to set stickers in WhatsApp.
– Send stickers to anyone via WhatsApp WAStickerApps.
– New sticker packs are added regularly.
How to Use Stickers Memoji for Android WhatsApp WAStickerApps:
1) Open the app on your phone, select a set of stickers and click "Download".
2) In WhatsApp WAStickerApps, tap the emoticon icon, then the sticker icon at the bottom. Pick your newly added sticker pack and start sharing with your friends.
Related apps