Home /
Medicos Pediatric:Clinical examination and history
1.0.4
Best app for bedside pediatric ward posting useful for Students Doctor and nurse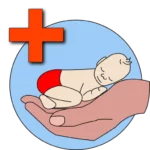 Download APK
Description
Medicos Pediatric is app that is useful for history taking and clinical examination of Pediatric patients Combined with easy to understand description and high quality images, this is a perfect platform to improve your clinical skills on Pediatric .
used by undergraduate students, nurses, doctors and teachers
App provides detailed information in topics required for you to improve your clinical skills
such as diet and feeding practice, Anthropometry, Developmental assessment/ developmental milestones of children from birth up to 5 years of age and also explains the basic instruments used in pediatric ward.
it provides detailed notes on most important topics for clinical practice with reference taken from internalionally recognised books such as meharban singh, piyush gupta, Paediatrics: A Clinical Handbook Book by Anouska Lerner, Arif Khan, and Joe Esland, Paediatric Clinical Examination Made Easy Book by Denis Gill and Niall O'Brien, and essential pediatrics and many more…
App is visually attractive with very easy to use user interface and has high quality images that helps learning more easy and fun
it also has handpicked videos available in youtube explaining the topics that will erase every doubt you had in that topic and make your understanding of clinical practice in pediatric crystal clear…
App include Almost Complete system for pediatric.It Especially Focuses on The Examination of system .This might help Medical student during revision and ward visit.The whole description and images are based on the commonly practiced clinical examination methods all around the world.
— FEATURES —
• Concise: edited to be useful at the bedside.
• Fast: advanced catch eye description
• Direct link to the references on youtube.
• BMI calculator and pack year calculator is added
• Perfect for studying for board exams!
•Detail Knowledge in pediatric intruments
• Detail Development milestone with age wise nutritional requirements
It include following system:
-General
-Respiratory system
-Cardiovascular system
-Hematology
-GastroIntestinal System
-Genitourinary system
-Head to Toe examination
The information provided in this app is filtered and revised to accommodate the need to make it as easy as possible, after all you wouldn't want to ditch your textbook just to pick up another in the name of a simple app.
We hope you find the app useful and worth your time, send us your feedback and suggestion on how to improve our app.
A LICENSED MEDICAL PROFESSIONAL IS RESPONSIBLE FOR INDEPENDENTLY REACHING ANY MEDICAL JUDGMENT, AND FOR ANY RESULTING DIAGNOSIS AND TREATMENTS, NOT WITHSTANDING ANY USE OF THE CONTENT BY SUCH MEDICAL PROFESSIONAL. BY USE OF THIS APPS YOU ACKNOWLEDGE AND AGREE THAT THE INFORMATION ON THIS APPS MAY CONTAIN INACCURACIES AND OTHER ERRORS.
We hope that this app helps to make the educational process both fun and learning.As the skills required of a physician and medical student cannot be learned from any single source, We encourage User to make use of as many other references as possible.
Lastly, please take a moment to rate this app if at all you find it beneficial.
Related apps