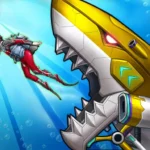 Download APK
Description
Take control a mech shark or a octopus to rule the ocean.
Explore a beautiful underwater world and unlock rare sharks like the Megalodon and Hammerhead Shark!
Explore the dangerous world encountering scuba divers, octopus, hippocampus, birds, and other fish. Hunt and attack all of them.
Kill and eat, don't let anyone survive! Upgrade your hungry shark into an epic hunting sea monster! Mech shark.io is the ultimate beast simulator!
Game Play Features:
• PvP Mode: try to kill as many fish as possible.
• PvE Mode: complete level goals and kill the evil boss.
• Free Game with lots of prizes & rewards!
• unique skills for each shark role.
• unlock parts and assemble your own shark.
• Enjoy the most relaxing and satisfied feeling with Rampage.
Related apps