Home /
MapGenie: GTA5 Map
1.8.14
The companion app for gta-5-map.com - an unofficial GTA5 map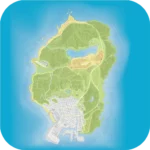 Download APK
Description
The gta-5-map.com app is back on Android – an unofficial fully interactive GTA 5 Map!
Thousands of GTAV locations broken down into over 50 categories! Search by category or by keyword to quickly find what you're looking for!
FEATURES:
• Over 2000 locations!
• Collectibles, Weapons, GTA locations, easter-eggs… 50+ different categories!
• 4 Map Types: Atlas, Satellite, Road & Inverted UV
• Sync progress with the website: https://gta-5-map.com
• Progress Tracker – track your collectibles and sync progress with the website.
• Quicksearch – quickly find for anything you're looking for!
• Add Notes – Add and edit your notes and sync them with the desktop version!
If you find a bug, or have any suggestions for the app, please use the 'Send Feedback' option below to let us know!
Disclaimer: MapGenie is in no way affiliated with Rockstar – GTA 5 and all it's trademarks and whatnot belong to them!
Related apps