Home /
Apps /
Maantra Alarm
2.4
This app is for Sadh Samaaj. It runs an Alarm at Maantra Time of your city.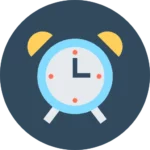 Download APK
Description
This app has been specially developed for Beloved Sadh Samaaj.
It plays an alarm at Maantra (Mantra) Time of your city everyday.
On Mi / Huawei / Oppo Mobile phones enable app to run in background in phone settings,so it can work properly.
It has following key Features:
1. It automatically finds your city from Cellphone Tower.
2. Plays alarm at Maantra TIme for that City.
3. Can set to play Alarm before Maantra Time (1 Minute early by default).
4. Automatically sets alarm for next day, everyday.
5. Shows a Notification if Alarm is missed, or Mobile is off during Alarm Time.
6. Alarm will dismiss itself after 2 minutes if dismiss button is not pressed.
7. Can set Custom Alarm tone.
8. If Phone is Silent, it will put phone on Full Volume, Play alarm , then put again on silent.
9. If phone is switched Off at time of Alarm, it will be played when phone is turned on, within 1 hour of Alarm Time.
If Wrong Time is displayed then Goto your Mobile Phone
Settings – Date and Time – Enable 'Automatic Time Zone' and 'Automatic Date and Time'
For any Tips, Suggestions or if any help is required, please Email me on : [email protected] before leaving review.
Related apps