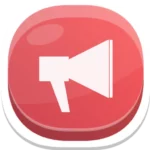 Download APK
Description
The free Love Sound Board app offers a selection of romantic love sounds and kissing noises for you to play on demand to entertain yourself and your friends. Multiple romantic sound buttons and kiss noise buttons to choose from to create a funny moment. Love Sound Board is simple, fun way to pass the time and show your boyfriend or girlfriend how much you care.
This is the perfect Valentine's Day app! Create a nice moment with your special someone with a romantic noise button and kissing sound button and share a laugh. You can send flowers, chocolates, or a card, but modern times call for a Valentine's Day sound app to add romance to any moment you share, for free!
FEATURES:
The top soundboard app for love, romance, and kiss sounds.
Kiss noise button to make a sweet sound with just a tap
Romantic noise button to tell your special someone "I love you"
Over 20 sounds to play on-demand for FREE!
Beautiful design gets you in the Valentine's Day spirit
Easy to use…just tap to play a sound for free
Play sounds as many times as you'd like
The Love Sound Board app is a unique, surprising way to make your friends laugh and add some humor to quiet moments. Soundboard apps are great for expressing emotions and the love noisemaker is the perfect theme for getting into the Valentine's Day spirit.
Get your kisses in in the easiest way possible: with a tap of a button. Spice up a special moment with this romantic noisemaker that says "I love you" out loud in a sweet way.
The easy-to-use design has all of the love themes that you want on one screen. All you have to do is tap the noisemaker button to play any sound that fits the moment.
With the Love Sound Board app you can create a cute moment with whistle noise, tell your boyfriend or girlfriend "Happy Valentine's Day", play instrumental flute sounds, or even sweet, melodic bird sounds. If you feel spicy, there are even "sexy boyfriend" and "sexy girlfriend" sounds to let your partner know!
The sound board has noises that are funny, romantic, sweet and playful– whatever mood you're in, Love Sound Board has plenty to entertain you.
Take all of the best sounds with you everywhere you go with Love Sound Board.
Related apps