Home /
L.O.L. Surprise! Disco House
1.3.4
Welcome to the dollhouse! Unbox L.O.L. Surprise! dolls & create your own story!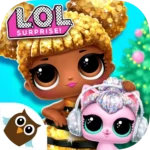 Download APK
Description
Calling all BBs to play! L.O.L. Surprise! Disco House is full of games and surprises! Unbox L.O.L. Surprise! dolls, grow a virtual doll collection and bling on the holidays! Celebrate at the L.O.L. Surprise! Disco House – enjoy beautiful festive decorations, play with pets, look for cute gifts under the tree, and unbox a lil joy!
NEW! PLAY WITH PETS
10 new adorable pets are ready to join the party. Collect all the stylish puppies and kitties and let's take an elfie!
NEW! UNBOX HOLIDAY GIFTS
'Tis the season for surprise! Look for special presents under the tree and unbox for even more holiday cheer! Rad surprises await – unwrap a pet puppy, new furniture items, hairstyles, pet toys, snacks, stickers, and even a brand new mini game!
NEW! ENJOY HOLIDAY DECOR
The dollhouse is all glammed up for the holidays with fairy lights, icy crystals, ribbons, glitter and much more beautiful decor!
COLLECT L.O.L. SURPRISE! DOLLS
Collect and unbox all 25 L.O.L. Surprise! dolls – each of them unique and fabulous, cute but fierce! Find clues, play cool mini games, collect diamonds and get new L.O.L. Surprise! balls to unbox – expand your collection and have fun with BBs!
DRESS UP AND TAKE CUTE PICTURES
Pick from BB's favorite themes and dress up your L.O.L. Surprise! dolls! Choose cute hairstyles and totally awesome outfits to surprise friends! Strike a pose to take a picture, decorate with cool stickers, and pop into the Super Star photo album. Fun!
CREATE YOUR STORY
L.O.L. Surprise! dolls love to dance, chat, and take cool selfies. They speak in emojis so you can interpret what they say – imagine the story and choose what the dolls will do next! Have fun and shine together with BBs!
PLAY FUN MINI GAMES
How well do you know the L.O.L. Surprise! world? Test your knowledge with B.B. Wood Squares! Explore cool mini games – look for stylish clothes, dance at a fun disco party, jump with pets, dress up BBs, and color cute pictures to decorate the house!
L.O.L. Surprise! is a registered trademark of MGA Entertainment, Inc. and is used under license. TutoTOONS Limited is solely responsible for all liability associated with the use of this app. Contact TutoTOONS Limited if you have any questions or complaints.
– – – – – – – – – – – – – – – – – – – – – – – –
About TutoTOONS Games for Kids
Crafted and play-tested with kids and toddlers, TutoTOONS games foster kids' creativity and help them learn while playing the games they love. Fun and educational TutoTOONS games strive to bring meaningful and safe mobile experiences to millions of children worldwide.
Important Message to Parents
This app is free to download and play, but there may be certain in-game items that can be purchased for real money. By downloading this app you agree to TutoTOONS Privacy Policy and Terms of Use.
Want to report an issue or share suggestions? Contact us at [email protected]
Discover More Fun with TutoTOONS!
· Subscribe to our YouTube channel: https://www.youtube.com/c/tutotoonsofficial
· Learn more about us: https://tutotoons.com
· Read our blog: https://blog.tutotoons.com
· Like us on Facebook: https://www.facebook.com/tutotoonsgames
· Follow us on Instagram: https://www.instagram.com/tutotoons/
Related apps