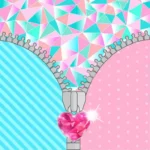 Download APK
Description
Lol low poly – Fantastic surprice – ASMR!
A cool creative lol fantasy game in a low poly style, which combines low poly and creativity for a fantastic surprice! Assembly the piece of dolls in the desired cells, step by step you will see how a bright surprice dolls appears whit relaxing ASMR sounds.
Awesome 3D puzzle game, train your brain and assembly unique and beautiful lol arts!
With plenty of original low poly art images you will discover the new world of lol glitters illustrations, amazing animals and birds, dolls and fairy-tale characters, as well as many other fun creatures.
Advantages of Lol low poly Game
· Easy to use, just slide the screen to play!
· All levels can be unlocked for free!
· We update our level collection frequently.
· Level sorting, no need to keep scrolling down the screen
· Up to thirteen languages
· Beautifully designed continuity for greater visual impact.
· No time limit, have fun!
. Relaxing ASMR sounds!
HOW TO PLAY – LOL Low Poly Game
★ Complete your collection by rotating it.
★ Keep completing levels to get more collectibles.
★ Spend time solving problems.
Related apps