Home /
Learn Arabic for Kids – تعلم اللغة العربية للاطفال
2.0
Read & Write Arabic ABC Alphabets, Numbers & Words with Sound & Educational Game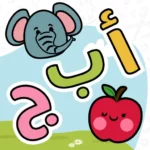 Download APK
Description
The Learn ABC Arabic for Kids App, is one of the best educational apps for pre-school and school kids, it has so many sub categories :
– ABC Arabic Alphabets
– Arabic Numbers
– Animals
– Colors
– Fruits and Vegetables
– Geometrical shapes
– Months and Days
– parts of the body
and MORE ..
All of this is supported with Audio files of how to Pronounce Alphabets, Numbers and Words, as well as Hhow to write and read, with some cool and fun educational music for kids to help with the educational process efficiency.
Our app is more or a less a fully functional school in every arab kid's pocket, very helpful with taking the first pre-school steps as well as school steps, from ABC Arabic Alphabets to Words and their pronounciations, every kid can now learn how to read and write Arabic very easily.
A fun, entertaining and educational package all in one, modern educational strategy for kids, with games and quiz.
There is also over 500 Fun Stories for bed time.
Related apps