Home /
Apps /
KOHO: Mobile Banking Alternative
1.91.0
Cashback, Chequing and Savings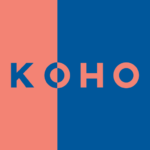 Download APK
Description
KOHO is a free, smart chequing account that's changing the way Canadians bank.
Like all good things, KOHO comes in threes. First, it starts with this very app that's designed to help you budget like a pro. It's connected to your chequing account, where you can earn 1.2% interest on your entire balance. Finally, we have our reloadable prepaid Visa card. It works like a Visa debit, except you get to make at least 0.5% cash back on every purchase.
Make instant cash back
Get 0.5% cash back on every purchase with our standard free account. Want a little more? Try KOHO Premium for $9/month or $84/year to earn 2% cash back on eating and drinking, groceries, and transportation.
Earn 1.2% interest on everything
Yes, we mean everything! From your Spendable to your savings, you can earn 1.2% interest (that's 2x the national average) on your entire account balance by setting up Direct Deposit.
No hidden fees
Traditional banks love to charge fees (the average Canadian spends $159 a year in bank fees!). We say, enough with this BS — bank stuff, that is. At KOHO, we'll never charge you fees for overdrafts, e-Transfers, ATM withdrawals, or non-sufficient funds.
Spend smarter, save faster
Real-time balance notifications and spending insights level up your budgeting game. In fact, the average KOHO user saves 7% of the money they put into their account each month.
Grow your credit score
Whip your credit score into shape with Credit Building. For only $7/month, this feature will handle the nitty-gritty work of improving your credit score and your future financial opportunities. Credit scores provided by TransUnion.
Get paid early
With our Early Payroll feature, you can access $100 of your next Direct Deposit paycheque, 3 days early, for free. Or, access $100 of your next paycheque any time for $5. No interest, no catch — just a little help when you might need it most.
Start spending in minutes
Signing up is easy and fast — we're talking 5 minutes, zero credit checks. Plus, you'll get a virtual prepaid Visa Card immediately upon registration. That means you can start online shopping and earning cash back in minutes; no need to wait for your physical card to arrive in the mail.
Do it all with KOHO
While KOHO isn't your average banking service, it can fulfill all your banking needs. Pay bills, send Interac e-Transfers, and even set up Direct Deposit with your employer to have your paycheque (or part of it) automatically loaded to your account.
Keep your money safe
KOHO is trusted by over 350,000 Canadians and backed by the country's leading investors. Your money is held securely by our partner Peoples Trust, a federally regulated and CDIC-insured bank. You can also lock your card in-app anytime, and are also protected from unauthorized use under Visa's Zero Liability policy.
Take the driver's seat
We're building KOHO for our users, so our continuous growth is grounded in the feedback we get from you! Reach out to us in-app if you have ideas for improvement. Love KOHO the way it is? Spread the word and refer a friend — we'll reward you and your pal with $20 every time you refer.
*** Featured in NASDAQ, Bloomberg, The Globe and Mail, CBC, Toronto Life, Yahoo Finance, and Financial Post
Related apps