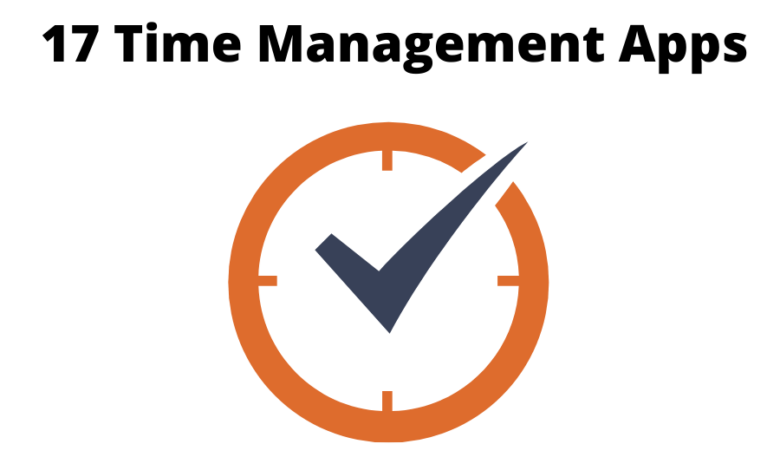 In this era of digitalization, you can make the most of each day by reaping the benefit of technology. Technology has made it possible to enhance your productivity using different time management software. Some of these applications may amplify your focus, fight your procrastination habit, organize your tasks or help to enhance collaboration and communication. In the end, these methods will ultimately help you to effectively manage your time and hence be more productive in your work.
The time management app which you choose for your work depends upon your requirements. Sometimes you may prefer an application that can help you to be organized because it has several to-do lists and calendars. Other times, you may simply need software that will help you to focus on your work by not procrastinating and finishing the work before the deadline.
Keeping all such factors in mind, we have a list of the 17 best time management apps that have different features for different work requirements of the people. Let's have a look at them.
17 Best Time Management Apps:
The first time management tool on our list to help amplify your productivity is Quire. With more than 100,000 users, Quire is a project management tool that will provide you with great control over your workflow. With the help of this app, you can plan your thoughts and tackle the challenges in your work routine by concocting small steps for a particular process.
The kanban board of the tool will allow you to visualize your projects before beginning them to assess their risks, strengths, and weaknesses. With a sleek interface, Quire enables the users to prepare timeline schedules with its Gantt chart feature. In the end, you can use the clutter-free workflow of this tool to seamlessly collaborate with their teams and smartly track their performance to enhance overall productivity. With endless features, you can either sign up for the free plan or the paid plans of Quire that start from $8 per member per month.
With the experience of 14 years in the industry and more than two million users, Rescue Time is a time management app to help you be more motivated and productive in your work. The software has personal daily focused goals that will encourage you to achieve your targets and track them as you work on your computer.
One of the greatest aspects of this tool is that it will provide you alerts in case you lose focus or are continuously working for long hours with the full focus. It will even help you figure out your major interference because it shows the time you spent on applications other than your work tools. In case you like the different features of Rescue Time, you can start its two-week free trial. The price of this tool starts from $6.5 per month.
With more than 140,000 users, Time Doctor is a great app for managers and employees to help their teams work to the best potential. This application has more than 60 integrations along with enterprise tools like productivity insights and automatic time tracking features. With an easy-to-use interface, you can enhance your efficiency using Time Doctor while working because it has off-track alerts, payrolls, project management and budget, and other such robust tools.
If you like the different features of Time Doctor, you can get its 14-day free trial. Once the trial is over, the Time Doctor plans initiate from $7 per month for a single user.
With a user base of more than 6 million customers in 120 countries, Toggl is another time management software that has a plethora of tools to boost your efficiency and degrade your stress. This application has three major features that will help you to focus on your work and enhance productivity. First of all, it provides an excellent time tracking feature to track your projects. Secondly, the reporting feature will provide you with detailed reports. You can even get summary and weekly reports. In the end, the project tracking feature provides project dashboards, estimates, and alerts.
With so many features, the Toggl app has a free version and certain paid plans as well. While getting any paid plan, you can opt for the 30-day free trial to test its features. The paid plans of this app start from $9 per month
With an easy-to-use and sleek interface, Clockify is a time management tool that will enhance your productivity using its simple time tracker. This tracker allows you to track applications, websites, and hours using a timer. You can even log your time in a timesheet present in this tool or manage the time in a calendar.
To bolster your productivity, this application will help you to schedule the work and manage your holidays. Accordingly, you can even track your expenses and invoices or see the profit and cost of your business. Once the order files are made, you can export them as Excel, PDF, or CSV documents. So get ready to track your budget and progress or set up virtual time breakdowns using clockify to enhance your productivity for free. Yes, the tool is free to use and provides access to unlimited users, unlimited tracking, and unlimited projects.
Being a part of the Google Workspace, the official Google Calendar app is a great tool to organize your content and save time. The app will help you to evade procrastination and perform all your tasks within the deadlines. The Google Calendar can even be viewed in different ways like the day view, Week view, or month view.
Additionally, the events from your Gmail can easily be synced to your Google Calendar like restaurant reservations, concerts, and flights. When you want to create important tasks, you can manage and view them alongside your events.
So get ready to schedule your meetings by checking your colleagues' availability through the Google Calendar app. You can even share the calendar on the web or with different team members so that they can see the event details in full. Besides being free to use, the calendar app is Compatible with tablets, smartphones, or even laptops.
Compatible with Android and iOS, Pocket is a must-have productivity app for all the avid readers out there. This application is kind of a bookmarking tool that will help you to save your favorite web pages so that you can read them later. Once you have saved your web pages, you can even highlight the preferred text.
However, the pocket is not like other bookmarking tools. This application will allow you to estimate the reading time of your selected articles. Additionally, the continuous listening feature of Pocket can be used on your Android or smartphone to help you listen to the article. All you need to do is to tap on the headphone icon located on the top left corner of the screen to listen to your favorite articles. Luckily Pocket has a free version and its premium version is available in certain countries.
As the name suggests, Remember The Milk is a time management app meant to bolster your productivity by telling you to perform your desired tasks on time. It has been around for more than 15 years and is one of the most trusted apps with multiple integrations.
It will help you to manage your busy days using different widgets to receive reminders for the tasks at hand. The To-Do List of the app will allow you to organize your tasks and subtasks and make them visually appealing with the help of the different built-in themes. You can even attach files to your tasks so that the workflow is organized and hence, work from a single dashboard.
Luckily, the tool has a free option. However, you can unlock all the advanced features of this software using its paid versions that start from $40 per year. The pro version will provide professional and advanced features for an unlimited number of users.
With a drag and drop interface, My life organized is a flexible task management tool that will help you to focus on your tasks. You can easily organize your tasks on this tool, either in a list form or in a tree form. What's great about the tool is that when you make to-do lists here, you can break the tasks into subtasks and these sub-tasks into more subtasks.
Once you have created your tasks and subtasks and added the relevant contexts or dates in them, My Life Organised will help you to generate a list of action items that you need to perform immediately. While organizing, the dual view of this tool will allow you to create an outline for planning and a simple list for accomplishing these plans simultaneously.
Other great features of this flexible task management application include location-based reminders, cloud syncing feature, and task creation with an email option. With so many features, this application is compatible with Windows, iOS, and Android OS. The price of this tool starts from 49.95 dollars for a one-time purchase.
Compatible with Android, Windows, Mac, iOS, and web, Todoist is a great tool when you struggle to manage and organize your tasks and meet deadlines. The app will help you to simplify your To-Do List and manage the tasks according to their deadlines.
Some of the great features of Todoist that make it the best time management tool for people who lag behind deadlines include Task management, reporting, setting project goals, and prioritizing tasks features.
First of all, the intuitive yet simple interface of the tool will help you to easily navigate through it and set your project goals. When you set goals for different tasks, you do not need to worry about the length of your To-Do List. The task management feature of the tool provides it with an intuitive interface so that you can manage all your tasks from it easily.
But if you still find difficulties managing multiple projects simultaneously on this app, Todoist will help you to prioritize them according to their deadlines. This ensures that you submit the work within the right time without having to worry about multiple tasks. In the end, you can track the progress of each project on your task using the robust reporting feature of the tool that provides comprehensive and in-depth reports for each project.
If you like the features of this tool, then you can opt for its basic version for the starters that is free of cost. However, if you want to unlock the full potential of the tool, then you can opt for its paid plans that start from either $4 per month or $3 per month if billed annually.
Packed with robust time management features, Trello is a great tool to help increase your efficiency. With an extremely customizable interface, this application can even integrate with other tools like DropBox or Google Drive.
Since the tool was formulated while keeping the collaboration feature in mind, it will help you to easily manage various projects and tasks assigned to different team members. This means you can get your team on the same page and see their performance using this visually appealing app. The tool has taskbars based on color-coding to help you in managing your time and work.
Luckily, Trello has a free version that provides unlimited storage and other features. However, in case you want to dive into additional and advanced features, you can opt for its paid versions that initiate from $13 per user per month. The paid versions will provide you with additional calendar views and dashboards.
With millions of users, Basecamp is an all-in-one platform to organize your tasks in a single place. The tool will help you to enhance your productivity with better communication and organized tasks.
When you use this time management application, you can easily segregate your work into different projects and add the required people to each project. There are a plethora of tools to help you complete each project, like message board, group chat, documents and files, schedules, To-Dos, and integration facility with third-party platforms. In case you want to have a look just at your activity, you can open the 'My Activity column and bookmark your tasks and other schedules here. Basecamp has a free version with limited features. But, the paid version of Basecamp with unlimited features initiates from $99/month for the team.
Just like the name of the tool suggests, Forest is used to helping you focus on your productivity levels while keeping an eye for the environment. This app is ideal for all Eco-conscious personalities who want to avoid distractions and work to their full potential.
To use this tool, you need to choose your tree. Once you have selected a tree, you can start working and focusing while your tree grows along. When a tree is fully grown, it symbolizes your one session of undistracted work. The more work projects you complete, the more trees you will get and hence the bigger your forest will be. What's creative about this tool is that in case you disturb a session or do not work on it for a longer time, your tree will die and hence your Forest will start truncating.
Since the Forest application collaborates with a real tree-planting organization known as Trees For The Future, your hard work would help to grow more trees. The app is compatible with Android and iOS and can even work as an add-on on fire Fox. It is available only at a price of approx 1.99 dollars per month.
Trusted by more than 4,000,000 parents, Qustodia is an all-in-one solution for the well-being of kids. The parents can manage their kids' screen time and keep it balanced on each device all through a single dashboard. Compatible with Android, Mac, iPhone, Kindle, Chromebook, and Windows, Qustodia will help you to build positive digital habits in your child by limiting their screen time, filtering certain websites, and getting reports into their activity. The price of using this tool starts from $28 per year.
As the name of this app suggests, it is meant to help you increase your concentration and focus levels by fighting the problem of procrastination. With an efficient and simple user interface, the tool is based on the principle of the Pomodoro technique. So it will help you to remove any stress and submit your goals within the time constraints.
All you need to do to use this tool is set up the Pomodoro timer that will prevent burnouts in your team. Once the timer is set, you can start focusing on your work. The timer is set for 25 minutes. Once this duration is over, you will get a 5-minute break according to the Pomodoro technique that will help to bolster your productivity. The same process will continue for four cycles, and then you can get a longer break for 20 to 30 minutes. Compatible with iOS, desktop, and Android, this tool is available only for 1.99 dollars per month.
With robust flexible search capabilities, Evernote is s time management app that will help you be more productive and organized. This app will allow you to keep important information handy by creating notes and adding images, documents, PDFs, audio, and text to them. Once the notes are created, you can automatically sync them to all your devices.
Additionally, Evernote even helps you to create your to-do lists with due dates and reminders and get your notes, tasks, and schedules all in one place. You can even save the pages by highlighting or marking them for later use. With so many features, Evernote has a free version that will help you to sync up to two devices.
However, if you want to unlock the full capabilities of the app, you can upgrade to its personal or professional version, costing 3.36 dollars per month and $4.3 per month respectively.
With more than 100,000 downloads, Focus Me is a robust timesaving app for online workers. This tool will help you to fight procrastination and hence unleash your true potential. Compatible with Windows, Mac, and Android, this pre-commitment app is used to ramp up productivity in the employees. Once you start using the tool, you can monitor, block or limit your use of certain time-sucking applications and websites and focus on your work.
So don't get your guilty online pleasures to intervene in your work, which will lead to repeatedly missed deadlines. You can even set your launch limits on this tool to open your emails at a specific point in time.
Focus Me is available 100% free on Android. However, if you want to use it on your Mac or Windows, you can get it starting at $5.4 per month.
ProofHub is a simple-to-use, cloud-based software that helps you create more accurate timesheets and project management reports.
ProofHub is a single all-in-one platform for managing projects, work and time. It has tools for making teams more effective and productive – the instant messaging tool for conversations and team collaboration, boards for organizing tasks and projects, the time tracking tool to measure productivity, easy reporting to analyze your team's performance, file sharing & storage, and it offers actionable analytics on your workforce.
The app has a beautiful & intuitive user interface and its features are designed to help project managers and team leaders more easily keep track of hours spent on projects and tasks, as well as generate professional detailed reports which can be used in different ways including.-
> Generate invoices to billing agencies, customers or suppliers.
> Generate payrolls for you or your employees.
> Provide time entries per project or task for building your own custom timesheet based on the work done.
Conclusion
Thus, this is our list of the 17 best time management apps that will amplify your concentration levels and overall efficiency. The usage of time management apps will help you to prioritize your tasks and not lag behind deadlines. Once you have enough time for each task, you can easily focus on it and perform it in an efficacious manner. So get ready to choose any of the above apps to enhance your focus and concentration levels according to your requirements.