Home /
Games /
Ipin deep jungle adventure
1.1
Lets play with ipin in deep jungle run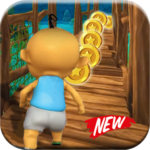 Download APK
Description
Ipin runs the 2020 deep sea jungle adventure game the best in the playstore. A fun and exciting game to play with fantastic graphic designs makes gamers don't get bored playing it. designed to be easy to play. and suitable for those of you who like fast games.
How to play :
– Run Ipin to collect coins
– Upin jumps over obstacles to the finish line
– Run will be fast if it passes the rabbit sign
– The road will slow down after passing the snail mark
– Run and pass all obstacles to the next level
let's download it now because upin the Ipin game running a deep sea jungle adventure can be played in casual time or can refresh the mind. For adults and children. free and not paid.
WARNING :
The road was filled with thorns and fire traps because it could kill Ipin deep sea adventure quickly. caution high walls avoid by scrolling, Don't forget, friends give five stars so that we can develop this game into a better future. Also be alert when jumping because there are several walls close together, so it must be fast when jumping. Love to play and hope you enjoy this game, thank you very much.
Related apps