Home /
Injury on Face Photo Maker
6.2
Make family & friends spellbound by creating terrifying injury images of yours!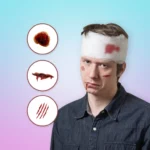 Download APK
Description
Injuries and scars leave people awestruck and worried. Invoke jaw-dropping fake injury effects to your photo with the aid of the Injury on Face Photo Maker app.
Injury on Face Prank Photo Maker has an exclusive collection of dramatic and heart falling injury effect ideas and stickers to create a realistic scar-filled injured face.
Make Battle injury effect on face and share to your friends to make them prank.
Features of the Injury on Face Photo Maker app:
– Devastating and heartbreaking collection of injury effects stickers to develop intense injury-based photos to make fake injury on face.
– An astonishingly varied collection of different categories of injury design stickers for fight photo injury.
– Professional photo crop tool to accurately modify the size of the photo.
– Implant the injury photo frame with thrilling text titles in vivid fonts and colors to make it more intense and expressive accident photo prank.
– Make use of the filter effects to enhance the appealing power of the injury.
– Awesome FX Effects.
– Professional fake injury photo editor app.
– Various realistic injury effects are presented like stitches, scars, bandages, wounds, salience etc.
– Injury effects photo montages creates premium quality and high resolutions photos.
Related apps