Home /
Apps /
HOTEK
1.20.0
The Mobile Access Solution for Hotels and Real Estate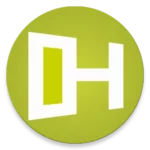 Download APK
Description
HOTEK: WE HAVE THE SOLUTION THAT FITS YOUR SITUATION
Hotek Hospitality Group offers and develops innovative security solutions for the hospitality
industry. Over 5.000 customers in 65 countries are being served, including hotels, holiday
resorts, cruise ships, nursing centers and student housing. We provide a range of offline
and online solutions, based on the latest technologies.
Mobile access is among the newest and most innovative access and hotel lock solutions.
HOTEK is proud to be able to offer mobile accessible locks and we're thrilled to launch our
new mobile access app with which guests can access their own hotel rooms. 
When using the HOTEK app, users are able to use feature 'key sharing', which enables
them to share their digital key with for example family members or partners. Access has
never been easier and more innovative!
For more information, visit our website or check out our social media channels. Enjoy
HOTEK! 
Please note: mobile access by HOTEK can only be used if the location of your choice
provides the HOTEK mobile access service for its guests.
Related apps