Home /
Hindi Top Nursery Rhymes – Offline Videos & Songs
1.37
Hindi Top nursery rhymes videos and Hindi rhymes songs - Download Once and Play.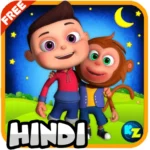 Download APK
Description
All Top Hindi Nursery Rhymes videos are COMPLETELY FREE to download and play.
Top Hindi rhymes videos and nursery songs designed and animated by Videogyan 3D Rhymes are available in OFFLINE mode with sing along text to enjoy Hindi rhymes and Hindi songs anytime anyplace.
Top Hindi Nursery Rhymes videos are supported across different devices.
Hindi Nursery songs and rhymes that are included in this App
★ Bandar Mama Hindi song
★ Billi Gayi Dilli song
★ Chunnu Munnu Baby Song
★ Dhobi Aaya Song
★ Lal Tamatar Rhyme
★ Machali Jal Ki Rani Nursery Rhymes
★ Naani Naani Suno Kahani Rhyme
★ Aalu Kacchalu Song
and we would keep adding more and more Hindi nursery rhymes and sing-along Hindi songs
★ Features:
☀ High-Quality Hindi Nursery Rhymes Videos
☀ Cute Animations for rhymes
☀ Lovable Characters
☀ Parental mode.
☀ Easy access to videos
☀ Offline Mode to enjoy Hindi rhymes songs
☀ Nice sounds and catchy background music
☀ Sing along songs to learn Hindi
Please leave a comment and rate our app.
Happy Singing and Happy Rhyming!!!!
Related apps