Home /
Games /
GT Car Racing No Limits 2020 : Simulator Edition
7
GT Car Racing No Limits : Simulator Edition have amazing and crazy routes.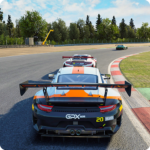 Download APK
Description
Play the most realistic Car driving simulator of 2020!
Race by your own rules! Let's go!
**Features**
🚗 A fun, free-to-play game that's a blast to play.
🚗 3D open world.
🚗 Daily bonuses and quests.
🚗 Fully detailed car models.
🚗 Drive from a first- or third-person perspective.
🚗 Lots of interactive elements in the car models.
🚗 Realistic physics and sounds effects.
🚗 A mechanic with lots of upgrade options for your cars.
🚗 Interactive gas station.
🚗 Exciting missions in the form of quests, arcade challenges, and races.
🚗 Dynamic day-night cycle.
Related apps