Home /
Free multiplication tables games (times tables)
Multiplication tables 1.3
👑 How to learn to multiply playing. Free multiplication games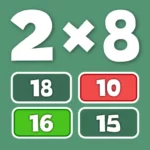 Download APK
Description
We have free math games that will help you learn to multiply playing. Learn, study and review in a fun way in this free multiplication table game (from 0 to 13). Improve your math, develop a fast mental calculation and discover how to learn multiplications very easily with little effort. 🔝
Are you looking for free multiplication tables games (time tables game)? 👍 Ok, you are in luck, here are 4 different ways to play to choose the one you like more and learn without effort. The difficulty varies, so if you already master the multiplication tables game from 1 to 10, you can improve your mental training and your knowledge with tables of 0, 11, 12 and 13. It's never been so fun to do a math exam!
With our funny math games you will see how to multiply playing and how to get a fast mental calculation. Start practicing every day and you will see how in a short time you will find it very easy to carry out operations of this type.
Features
★ 4 free multiplication tables games: ordered, disordered, mixed from 1 to 10 or mixed from 0 to 13
★ Select the time table you want, study it, review it and become the king of maths
★ Choose between playing for 60 seconds, answering 10 questions, exam and organize
★ You will always see the correct answer in each question
★ Exclusive mathematical games from 0 to 13 to learn multiplications
★ Records and time tables that you have finished without failures are saved
★ Translated to 14 languages
★ Realistic theme with blackboard and chalk like a math teacher
Give this free multiplications game a try and become the king of maths. Start improving your mental calculation now! 😜
Look at our other applications and discover more ways to learn, more types of operations and more fun games that will make you have a good time.
Related apps