Home /
Fake bed bug prank on screen
3.1
Various fake bug prank on your phone screen crawl, very funny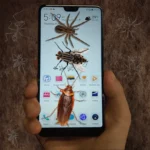 Download APK
Description
This is a prank, insects crawling on the screen.
We offer ants, cockroaches, worms, spiders and flies.
You can choose the type of worm. You can also set the number of one or more worms.
After the program starts, you can perform any other operations on your phone without any impact.
Suggest
1. Full screen insect crawling, very interesting
2. After opening the program, select the delay time and insects will appear after a few seconds.
3. Secretly install "Insect on screen prank" on your friend's mobile phone and Tricky him.
Related apps