Home /
DC Emoji – Emojis for Discord & Slack
1.6
This app provides you custom emojis for Discord and Slack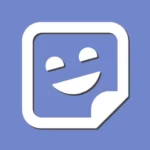 Download APK
Description
DC Emoji provides you large number of normal as well as animated Emojis which you can use in Discord, Slack, Twitch and so on. Besides this, it provides emoji packs. We hope you will find this app useful.
Discord Server: https://discord.gg/TACPRNefg2
Ad-free version: https://play.google.com/store/apps/details?id=in.sketchub.dcemojipro
Thanks to https://emoji.gg/ for providing emotes.
This app is not affiliated by Discord or Slack Officials.
Related apps