Home /
Apps /
Crazy Car Transporter Ultimate Euro Truck Driving
0.1
Must play this Ultimate Euro Truck Driving Simulator 3D Crazy Car Transporter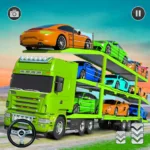 Download APK
Description
Must play this Ultimate Euro Truck Driving Simulator 3D Crazy Car Transporter.
Features of Crazy Car Transport Truck: Offroad Driving Game:
Interesting Car transport Missions with Euro Truck Driving Simulator
Transport Cars in Monster truck driving
Enjoy adventurous Car Carrier Grand Trucks
Free Truck Driver Cargo Game
Awesome Mountain driving tracks
Multiple Payloads Available
High-Resolution Graphics
Best Sound Quality
Carrier Truck Driving Adventure
Offroad truck driving in a big city
Easy to play free offline game 2021
Experience the joy of Modern Car driving games by driving a monster trucks on dangerous mountain roads. Be a super truck driver of Truck Street driving games by driving crazy car transporter truck game 2021.
This car transport game gives the feel of a real Euro Truck Driving Simulator with various missions to transport cars from one place to another place via difficult routes on car carrier euro trucks. It looks very similar to an auto car driving game but actually, it is a grand truck driving truck simulation game specially built for long driving vehicles truck games lovers.
Enjoy this cargo truck drive of car transporter truck games 2021 with a long trailer truck game. It's one of the best cargo car driving games among all truck simulator games, army truck driving, driving car games, cargoship games, and boat games. Cruise Ship Simulator 3D truck games 2021 give the sense of real cargo car transportation. Offroad truck simulation free offline game with engaging missions of extreme car transportation in Car Trailer Games.
These amazing Euro Truck Simulator Truck Driving Games give the best feel among all the big trailer and big truck games. In this advanced truck driving game, you have to load grand trucks with crazy cars and drop them at the target location. There are multiple challenges in this free offline driving game where you will have to show your amazing driving skills unlock the next level.
This is a modern city truck driving game where you will enjoy all modern trucks never seen before on any truck driving game. In most truck games and army driving games, it's hard to manage trucks on difficult tracks but smooth controls of tilt and steering made it really easy for truck lovers.
In this new best driving game of 2021, you will experience an awesome environment and gameplay like other vehicle driving games and driver games. You will love to ride the vehicle trucks and enjoy the truck speed in Extreme Car Transport Games.
Do give your valuable feedback after playing Crazy Car Transporter Ultimate Euro Truck Driving.
Related apps