Home /
Boltt Play – Music, Videos, Games, Social, Rewards
1.0.50
Earn For Playing Games, Music, Movies & Much More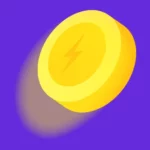 Download APK
Description
You walk, listen to music, play games, share and watch videos everyday!
Now GET REWARDED for these daily lifestyle activities!

Top "Entertainment, Games & Social Videos & Rewards" Mobile App.

Download the app now and use it for Entertainment, Uploading & Watching Videos, Listening to Music, Playing Games & Earning Free Rewards!

 Boltt Play is the world's first Gaming, Entertainment, Social, Fitness & Rewards Ecosystem.

You can Earn Coins For Taking Steps, Uploading Short funny videos, Playing Games, Listening to Music, Watching Movies & Much More!

 The app helps you in several different ways:


1. GET FIT !!
The Boltt App tracks your daily health and fitness achievements. It measures your daily steps & fitness and records them. You get rewarded for each step you take.
Walk and Earn Coins!


2. WATCH VIDEOS & GET ENTERTAINED !!
Watch amazing videos, movies and Tv Shows! 
Watch movies and videos online directly on the App.
Get rewarded for watching mobile videos on the App!!


3. UPLOAD SHORT FUNNY VIDEOS & LAUGH !!
Get creative and upload short funny videos! You get rewarded for Video Views! The more people view your videos, more rewards you get! Upload awesome funny videos, prank videos, trending videos and share them on whatsapp with your friends.

Get more views, become famous AND get rewarded!


4. LISTEN TO MUSIC & ENJOY !!
Listen to newest songs available in an exclusive Music section in the App.
Get rewarded for listening to songs on the App.

4. PLAY GAMES & HAVE FUN !!
Play exciting multi player mobile games, fantasy sports, in the App that will get you hooked! Get rewarded for playing games on the App. Unlock challenges & achievements at each point. Not only have FUN But also GET rewarded for gaming!!


5. EARN & GET IN APP REWARDS: 
Redeem and earn exciting/unique brand product offers and experiences from the in App shop, with the help of Boltt Coins. Earn Coins for all Activities in the App. Use the Coins to redeem rewards like free products, offers, Items, Deals and Vouchers from popular brands!
Additional Features
1. Connecting Devices
Connect your Boltt Devices with the Boltt App & double your music earnings.

2. Inviting Friends
Refer to a friend and earn Coins

3.
Watch E Sports
Watch Esports contests and win Coins for every game win.

So what are you waiting for? Download the App now!!
Related apps