Home /
Games /
Belajar ABC, Nombor dan Warna
1.31
Ayuh adik-adik, kita belajar ABC, nombor dan warna. Bermain sambil belajar.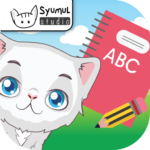 Download APK
Description
Ayuh belajar huruf-huruf ABC, nombor dan warna di dalam Bahasa.
Di dalam permainan ini terdapat :-
– Mengenal ABC, Nombor dan Warna
– Belajar Suku Kata untuk memudahkan proses belajar
– Gambar-gambar yang menarik dan bersesuaian dengan Huruf yang di ajar
– Audio yang comel dari anak kecil untuk di dengari
– Permainan Siapa Saya
– Mewarna
– Menulis
dan banyak lagi..
p/s : Do support us and share this game to others. Thank you.
Related apps